It's only a few weeks away now – our first major trade show of the year: Semaine de l'Innovation du Transport et de la Logistique (SITL) – translated as International Week of Transport & Logistics.
Taking place at Porte de Versailles in Paris from 28-30 March, SITL this year celebrates its 40th anniversary and is set to welcome some 50,000 leading decision-makers from across France and beyond.
–> Ask for your free personal invitation to the tradeshow <–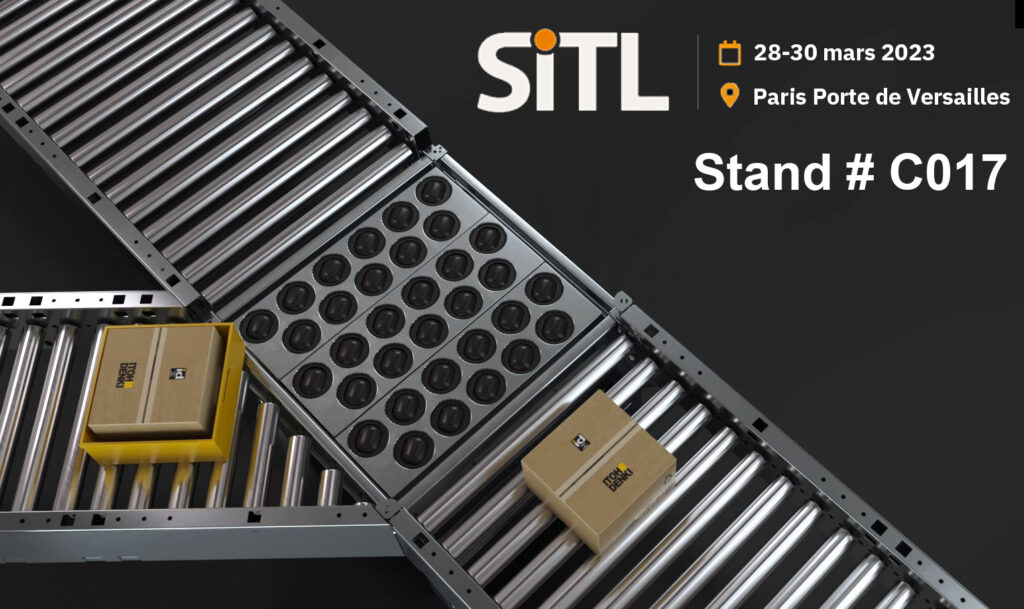 Our latest sortation modules on live demonstration
Taking pride of place – and making its French show debut – will be our Multi-Angle Ball Sorter (MABS) high-capacity multi-directional diverter.
MABS delivers unrivalled speed, compactness and flexibility across a broad spectrum of warehousing, e-commerce and intralogistics applications.
Boasting patented rotating ball transfer technology, it can divert to exits at any angle on both sides.
Available in five sizes, it's flexible enough to be integrated into almost any type of conveyor system – and can deliver an impressive throughput of up to 4,300 units per hour.
Versatility and safety are two of its other key features. Loads of up to 30kg in a great range of sizes and shapes can be safely handled, while it uses 24v DC rather than pneumatic power.
Better still, MABS can be easily reconfigured to meet changing needs with up to eight units combines to create larger transfer areas.
Also on show will be our F-RAT NX compact 90° diverter and sorter module, again powered solely by 24V DC. It's the only diverter of its type to transfer products at 90° on either side without needing to lift the product between the entry and the exit. This feature allows for both smoother transfers and simpler conveyor design.
In tandem with ZPA (zero pressure accumulation) conveyors, MABS and F-RAT NX – again available in a variety of sizes – deliver accurate product positioning and smooth transfer, allowing for high throughputs without compromising safety or quality.
The versatility of our systems makes them ideal in a wide array of applications and industries, offering great adaptability to changing volumes or needs. They are low-maintenance too, meaning greater productivity and efficiency and more rapid return on investment.
We look forward to welcoming customers and integrators to our stand to see our technologies in action on stand C017.